Accurate measurement of the bottom width of the narrow faces in a continuous caster mold is paramount to setup procedures prior to casting.  Typically, mold width measurement is obtained by reaching down and stretching a tape measure across, which can be unsafe and error prone.  In recent years, the demand for a quick and accurate method of measuring mold setup width has led to the advancement in this technology.
ST150 MoldCALIPER

The ST150 MoldCALIPER mold width setup gauge precisely measures the distance between the narrow faces of a continuos caster's mold.  The portable system incorporates a battery operated digital LCD position display providing reliable readout with resolutions to 0.1mm.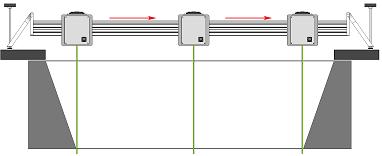 The display operates with an integrated magnetoresistive sensor head which records pulse signals generated from movement over magnetic tape.  This tape is fastened to the underside of the measurement bar with high temperature adhesive and is protected by a stainless steel jacket.  A green laser beam, mounted in the sensor head, is used to indicate the position of the mold narrow faces or foot-rolls.  Capabilities of the gauge include measuring the entire span of the mold (bottom and top), recording where each end wall is with respect to the center of the machine and checking alignment of the lower foot rolls.
ST154 MoldALIGN

The ST154 MoldALIGN further simplifies mold width setup by simultaneously measuring both top and bottom dimensions with a single, compact gauge. The handheld gauge fits down inside the mold and records the position of the end walls by means of four triangulation lasers.  A cable connects the gauge to a PC running software that analyzes the data and displays the overall width and end wall position to the operator.  This data can be transmitted to the customers PLC in order to automatically drive the end walls to the proper position for operation